Today I am revealing the final Dining Room Design for my first virtual renovation.  I have taken an actual real estate listing photo and used it as the basis of a virtual Design Project.  I am designing for an imaginary couple living in Wayne, PA.   Above is a "mood board" or photo collage like the ones I create for Design Action Plan clients. Instead of hammers and nails,  I am using 3D rendering technology, to 'construct' this virtual renovation.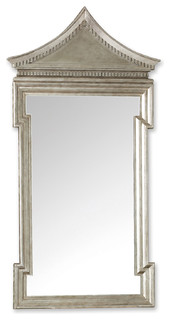 Besides those items I called out in my previous post, I have selected some beautiful silver leaf mirrors from Global Views to reflect the light from the windows and create a strong symmetry in the room.
I have also selected a greige wall color and a muted peach/greige/beige F. Schumacher fabric for the draperies.  The room will be a soft and elegant space.  The bargello weave on the head chairs, is a bold choice, but it becomes less so in the context of the entire Dining Room Design.    More than just a decorating project, the removal of the wainscot and the addition of the ceiling design that I described in my previous post add a bit of construction work to this project.  But, I think you will agree these changes really elevate the room from it's previous state:
I hope this virtual renovation has inspired you to look for the potential in the rooms in your home.